TX9500 w/iMotion 2301 Direct Drive
The Series TX9500AG is an all-glass sliding door entrance system. It creates an appealing design oriented environment that provides open and clear lines of sight. The Door system utilizes the TORMAX iMotion® 2301 direct drive system and 1/2" thick tempered glass panels. The system is available in clear or dark bronze finish as well as stainless steel or brass clad finish. A fully adjustable door system, it is available in a concealed or surface mount configuration with only the sliding panels breaking away for emergency egress. Optional accessories include electric locking and battery backup as well as the iMotion® 2401 heavy duty direct drive system and components. The ideal solution for a smooth, quiet and elegant entrance that requires an inviting look.  Brochure CLEAN ROOM access is assured with the TORMAX TX9000 automatic sliding door system. Measured and tested under the cleanroom standards laid down by the current global International Standards Organization (ISO), it has been identified as one of the cleanest systems available on the market today achieving an ISO 14644-1 Class 2 standard. This standard is considerably more rigorous than the old GSA Federal Standard 209E Class 1 that many automatic door operating systems are still classified under. Architects and specifiers should be aware that ISO Class 3 standard is in fact equal to the old FS209E Class 1 standard. The Class 2 standard which the TX9000 sliding door system has achieved doesn't even have an equivalent in the old classification. Click here for Press Release.
Rated
5
based on
1
product reviews
Revit BIM Files for TORMAX USA Inc.
CAD Detail Files for TORMAX USA Inc.
Specifications for TORMAX USA Inc.
application/vnd.openxmlformats-officedocument.wordprocessingml.document
Docx
application/vnd.openxmlformats-officedocument.wordprocessingml.document
Docx - Canadian
application/msword
Doc
Specwizards® for TORMAX USA Inc.
08 42 29 |
BusinessApplication
Building Construction Specifications
Catalogs for TORMAX USA Inc.
Videos for TORMAX USA Inc.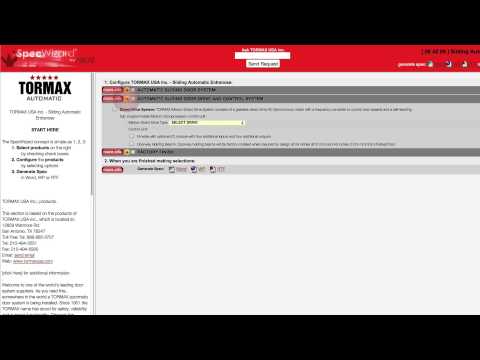 TORMAX USA Inc. video of Tormax SpecWizard for Sliding Automatic Entrances
2015-07-06